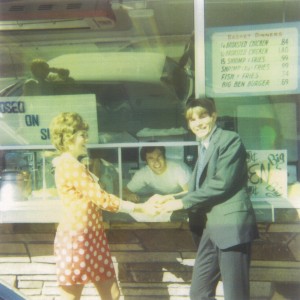 In 1956 the idea of 'fast food' was in its infancy, and Ben Fowler had the idea to open a restaurant.
During WWII Ben had been a Navy Fighter Pilot, after which he owned a ranch in Wyoming and Laundromats in Southern California.
Coming home to his native Utah Ben and his wife Rita decided to invest their money in a new endeavor and the two of them opened the Burger Bar.  The gamble paid off and the Burger Bar has been busy since the day it opened.
Starting with the two of them as employees, they did everything from waiting on the customers, preparation work, cooking, book-work and everything in between.  Working 16-18 hours per day they made a success of their little business.
All of the Fowler children worked there, before going on to other careers.  The sixth child David, after graduating from college decided to manage the restaurant, and in 1981 gradually started taking over all aspects of management, before eventually buying out his parents.
David and his wife Connie who met each other while working at the restaurant have five children.  Jessica and Joseph are now beginning to manage the business and are going to be the Third generation running the same little 'fast food place' on a busy corner in Roy, Utah.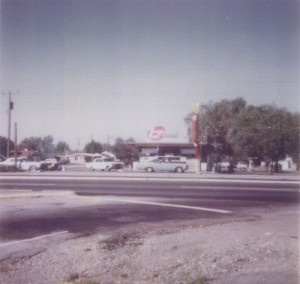 If you mention the Burger Bar to someone you may get a range of different comments, from the fresh taste of the food, the great hand sliced and breaded onion rings, the handmade deep fried mushrooms, the towering thick milkshakes to the signature "Big Ben" named after the founder.  But you will always hear comments about the history of the place.  How they remember coming there with their parents, or after a date on a Saturday night, or how they loved to hang out with their friends after the ball game at the High School.
Times have changed since Ben and Rita charged a quarter for a burger, and when their employees were rolling out hamburger patties by hand, and chopping 2500 lbs. of potatoes a week. Local companies now bake the 'Big Ben' bun fresh, grind the meat daily, and chop the hundreds of pounds of fries.  But people still sit in the back of the pick-up, or hang out after the game.  They still see regular customers coming back day after day, knowing their names and faces.
Perhaps Jessica said it best " It's not the most glamorous job.  It can be greasy, hot, chaotic and crazy. But there is a sense of pride to have it be like a long family held tradition and be an institution in the community"
Even though the rushes can be crazy and people have learned that their order is cooked fresh, the Burger Bar still feels exactly like what it is, a small family owned business that appreciates being in a small community and appreciates all their loyal patrons.